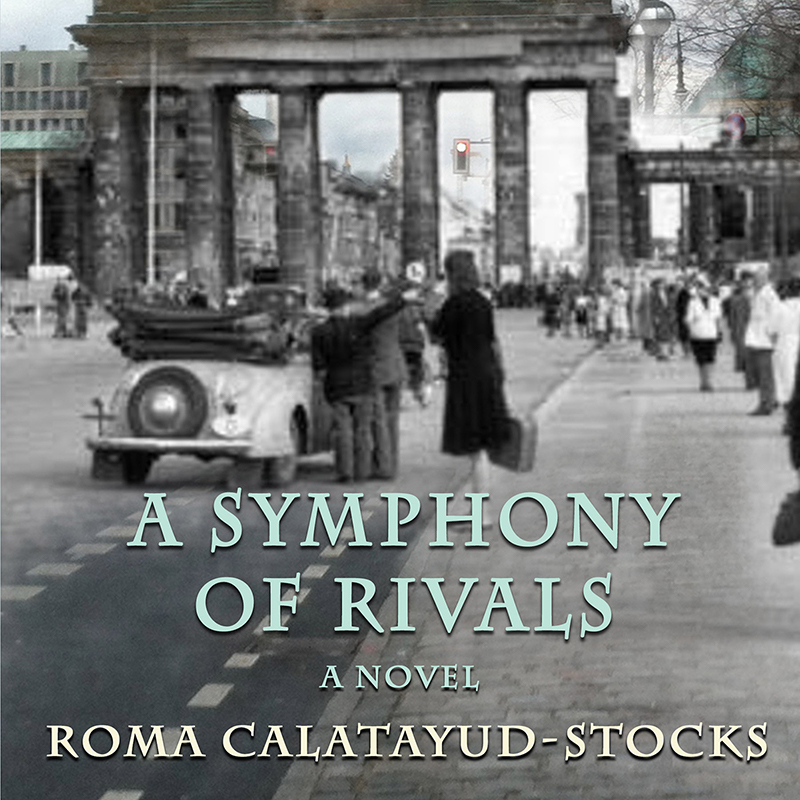 A SYMPHONY OF RIVALS MUSIC
A complete list of chapter titles and musical selections are available in the book. 
Below please find a sample of musical selections corresponding to various chapters in the historical novel A Symphony of Rivals. Click on the chapter to listen to the music.
A SONG IN MY HEART MUSIC. Companion Album to the historical novel, A Song in My Heart
Chan Poling, "I have arranged and played many styles of music over the years. Roma's music has touched me always. Her new collection of songs for her story, A Song in My Heart, are once again beautiful and lushly romantic, evocative of another time and place."
To buy album at CD Baby Music Click here: 
Music & Lyrics composed by Roma Calatayud-Stocks, and arranged by Chan Poling. Genres: Classical, Jazz, Latin, World.
Vals Del Sol, Waltz of the Sun 

Nostalgia Mexicana 

There with You

Castanets 

Sunset in Venice 

We Have Been Waiting 

Enchanting Lover 

Amalfi (Instrumental) 

God Lives 

Magical Night 

Remembrance

Carnival of Life

A Song in My Heart

Amalfi  
A Song in My Heart Original CD Soundtrack available with book/CD package. Performances by Chan Poling, Estaire Godinez, Nachito Herrera, Gordy Johnson, Dean Magraw, Russ Peterson, Jim Price, Molly Shields, Roma Calatayud-Stocks, Aurora String Quartet, and other Twin Cities musicians. See complete list in book. 
Chapter Musical Titles from the Novel
Part 1
Chapter 1 – Ode to Minnesota
Chapter 2 – Ecossaise
Chapter 3 – Alejandra, Enrique Mora
Chapter 4 – Vals del Sol, Roma Calatayud-Stocks
Part 2
Chapter 5 – Dance of Nymphs and Satyrs
Chapter 6 – Nostalgia Mexicana, Roma Calatayud-Stocks
Chapter 7 – Over the Waves, Juventino Rosas
Chapter 8 – America the Beautiful, Samuel A. Ward and Katherine Lee Bates
Chapter 9 – Pack up Your Troubles in your Old Kit Bag, Felix and George Powell
Chapter 10 – The Blue Danube, Johann Strauss II
Chapter 11 – I'm Always Chasing Rainbows, Harry Carroll, and Adapted from Frédéric Chopin
Chapter 12 – There with You, Roma Calatayud-Stocks
Chapter 13 – Prelude in E Minor
Chapter 14 – Piano Concerto No. 1
Chapter 15 – One Step
Chapter 16 – Castanets, Roma Calatayud-Stocks
Chapter 17 – Adagio in G Minor, Tomaso Albinoni
Chapter 18 – Sunset in Venice, Roma Calatayud-Stocks
Chapter 19 – Sonata in C Major
Chapter 20 – Symphony No. 7, 2nd. Movement, Ludwig van Beethoven
Chapter 21 – Liebestraum, Franz Liszt
Chapter 22 – Hungarian Dance No. 5, Johannes Brahms
Chapter 23 – Symphony No. 5, Ludwig van Beethoven
Chapter 24 – We Have Been Waiting, Roma Calatayud-Stocks
Part 3
Chapter 25 – Enchanting Lover and Amalfi, Roma Calatayud-Stocks
Chapter 26 – Moonlight Sonata, Ludwig van Beethoven
Chapter 27 – Eroica, Ludwig van Beethoven
Chapter 28 – Clair de Lune, Claude Debussy
Chapter 29 – Rhapsody in Blue, George Gershwin
Chapter 30 – The Three-Cornered Hat, Manuel de Falla
Chapter 31 – God Lives, Roma Calatayud-Stocks
Chapter 32 – Magical Night, Roma Calatayud-Stocks
Chapter 33 – Remembrance, Roma Calatayud-Stocks
Chapter 34 – Carnival of Life, Roma Calatayud-Stocks
Chapter 35 – A Song in My Heart, Roma Calatayud-Stocks
Chapter 36 – Amalfi, Roma Calatayud-Stocks
Highlighted titles denotes songs and instrumental compositions included in album/CD